The hidden tab was designed as a shortcut for you to access your wallet in one swipe. This tab would contain:
1. Your wallet address
2. A section to show your last transaction
3. The QR Code of your address, you can click to copy your address
4. A QR Code scanner to scan the Smart Proof
You can change your main account in less than 03 seconds. This enables you to manage multiple accounts conveniently at once. There is no limit for the number of your accounts. It means you can create as many accounts as you want.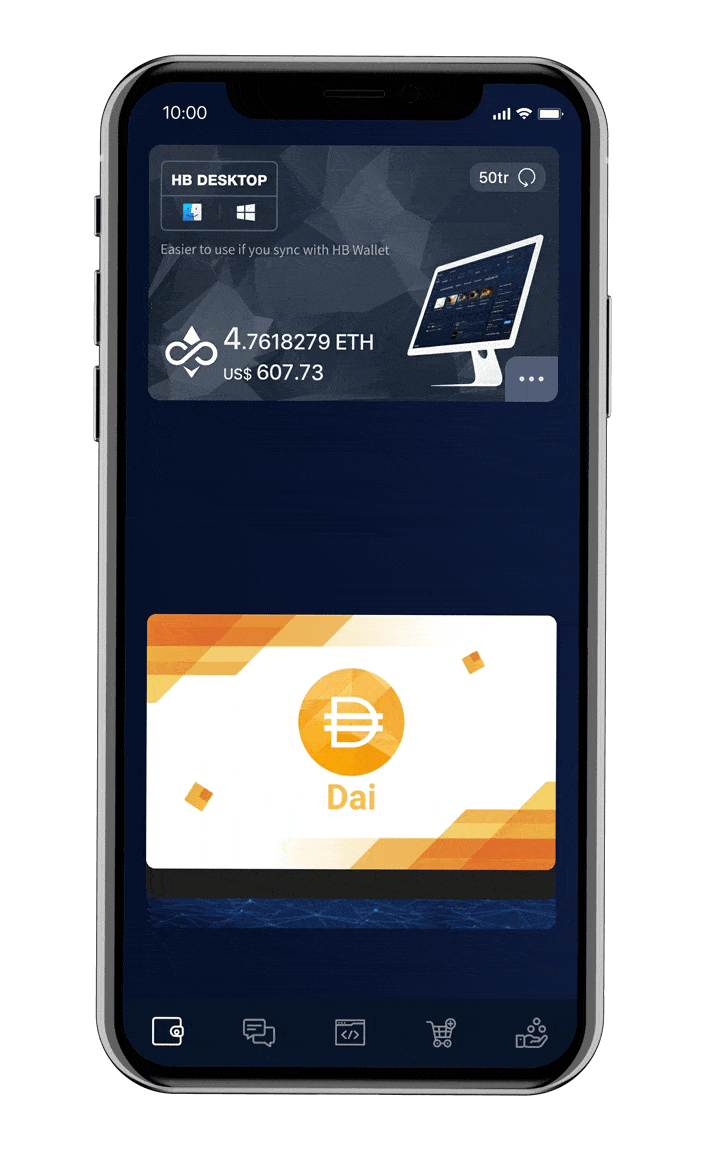 You can access some other cool features within your wallet settings:
​
1. Events: Track upcoming events of most Cryptocurrencies
​
2. Notification List: Check previous notifications in your wallet
​
3. Search Token: Add a token to your wallet, you can add a custom token, which is missing from our Database by clicking on '+' at the top right corner
​
4. Buy Crypto: Enable you to purchase BTC, ETH, XRP, and TRX directly on HB Wallet by using Credit Cards
​
5. Language: Change the language of your wallet
​
6. Settings: Allow notification, show or hide an account, delete a token card from your wallet
​
7. Security: Set up a Password or Fingerprint lock
​
8. Regional Currency: Change the currency unit of your wallet
​
9. Account Book: Create your own directory
​
10. Wallet Key: Access your Passphrase and Private Key
​
11. Market Tracker: Track the current market price
​
12: Import & Sweep: Import a wallet or take everything from a wallet by using the 'Sweep' feature
​
13. Reset Wallet: Reset everything, please record your passphrase before proceeding
​
14. Help: Access our support platform
The wallet settings of HB Wallet Desktop would enable users to access:
​
1. Notification: Check previous notifications in your wallet
2. Language: Change the language of your wallet
​
3. Wallet Settings: Show or hide an account, delete a token card from your wallet
​
4. Security: Set up a PIN Code for your wallet
​
5. Regional Currency: Change the currency unit of your wallet
​
6. Manage Account Book: Create your own directory
7. Display Passphrase: Access your Passphrase
8. Display Private Key: Access your Private Key
9. Import Account: Add new Ethereum Account to your wallet
​
10. Add Custom Token: Add custom token to you wallet that can't be found in HB Wallet Database
​
11. Register Token Card: Add a new Token to HB Wallet
​
12. Apply for Airdrop: Host an Airdrop event on HB Wallet
​
13. Watch Contract: Check the current info of a Smart Contract
​
14. Initialize Wallet: Reset everything, please record your passphrase before proceeding
​
15. How to send/receive: An instruction for users to send or receive
​
16. About HB Blockchain Interface: HB Wallet introduction
​
17. Help: Frequently Aksed Questions
​
18. System Requirements: Basic requirements for your devices
​